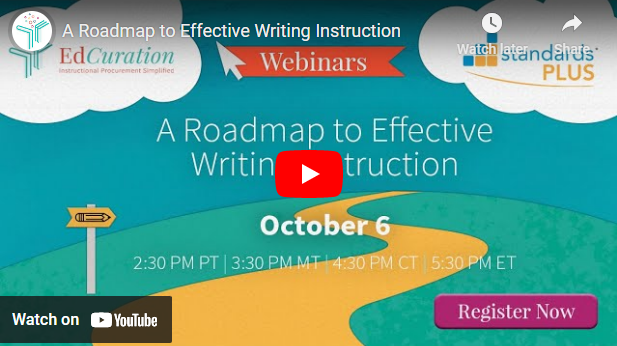 A Roadmap to Effective Writing Instruction
Teaching writing is challenging, and the instruction students receive needs to be specific, focused, engaging, and manageable. Now more than ever, teachers need to know with confidence that their chosen materials and instructional strategies will develop proficient writers.
This webinar gives educators a firsthand look at Standards Plus Writing Highway, a research-based writing program developed by an award-winning educational nonprofit. The keynote speaker is Dr. Sharon Corkrum, a former director and assistant superintendent of a large urban school district. In her role, Sharon was responsible for a district-wide implementation of K-12 English Language Arts curriculum and instruction. Sharon discusses best practices around accelerating learning when it comes to writing instruction.
Watch this on-demand webinar to learn how Writing Highway can help educators:
Address the academic impact of lost instructional time by focusing on basic writing skills
Accelerate learning recovery by teaching the writing process before moving to more advanced instruction
Systematically teach and reinforce effective writing strategies that develop proficient writers