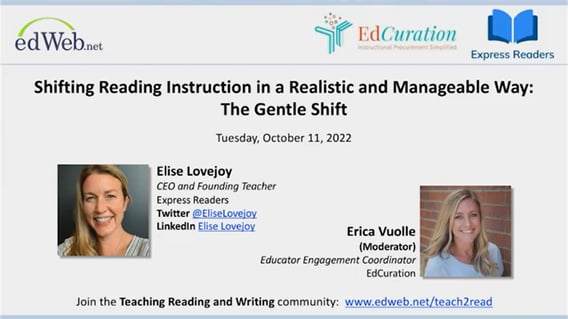 Shifting Reading Instruction in a Realistic and Manageable Way
Shifting practices to meet the research in reading can feel overwhelming, especially with the lack of funding, obstacles in implementation, and constant changes that teachers face daily. Educators and administrators need to find ways to make the change more manageable, even within their existing environments with only the available resources.

During this webinar with Express Readers, you will receive a quick summary of the current movement in education towards structured literacy. You will then be introduced to practical approaches for shifting mindset and instruction in areas such as reading groups/centers, planning methods, daily routines, and educational materials—all without needing to overspend or overwhelm.

The gentle shift is a mindset and a path for all educators who might be struggling with where to begin. Essentially, the transformation begins with educators, not with programs or packaged materials. These realistic approaches will give you the tools to start shifting practices effectively and to construct a strong foundation to achieve the desired results for your students.