Seeking to hire K-12 blog and content writers with teaching or related education experience.
EdCuration is looking to bring on a few blog and content writers to help provide content for our
Learning in Action blog
and other creative needs as they arise. We do require an expertise in education and/or a teaching background as these articles are directed at teachers and school or district leaders.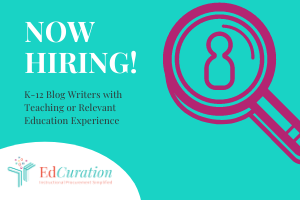 We're looking for bloggers or want-to-be writers who can submit a minimum of two articles per month and meet the following criteria.
Topics are provided and writers must research independently. These articles are strategy-driven content pieces that include references to curriculum products that support the overarching goal, but we do like to see non-curriculum product suggestions and strategies as well.
Here are a few examples:
Blogs range from 500-1100 words based on the specific need of that article, and we expect error-free copy, authoritative sources (if relevant), and embedded links (if relevant). We will offer a small stipend per article of $75 as well as an article byline. The article is shared on social media and to our email list of 100K+ educators, and we encourage you to share as well.
We also publish product agnostic, educator-friendly content and are open to hearing your ideas for blog posts.
To apply, email us your cover letter, resume, and relevant writing samples to
Hillary@EdCuration.com
. Please use the subject line "Blog Writer" in your message.